Painters and Decorators in the area of Bethnal Green E2
Hire interior painters who consistently achieve high standards by contacting us today. Use these painting and decorating services to apply professional finishes to your walls, floors, ceilings, doors and more. You can benefit from the team's expertise on both domestic and commercial properties are you a homeowner, buyer, seller, landlord, tenant or estate agent? We can help you. Get us to work in office buildings, pubs, and even multi-floor department stores!
Booking Options and Process
Get the ball rolling by speaking to an adviser over the phone, via email or online
You'll be asked a few questions that'll allow us to calculate a preliminary quote for your specific painting and decorating services
You'll be offered a no-obligation on-site visit during which one of the interior painters will assess the work and provide you with professional advice
Within one working day after this visit you'll receive a final, quote to which you can agree or disagree. This quote can be revised if necessary.
Choose Painters in Bethnal Green E2 And Get:
An Instant Price

 – pick up the phone today and connect with an experienced adviser

A Home Consultation

 – discuss the specifics of your job with a professional. This is completely without obligation

Dedicated Professionals

 – who'll cause a minimum of disruption on your property during your painting and decorating services

Negotiable Working Hours

 – this is your project and we're happy to work around your schedule

A Competitively Priced Service

 – don't overpay! Hire us to benefit from reasonable costs

Proven Quality

 – you're choosing a team that's dedicated to delivering extremely high standards.
Learn More About The Services We Offer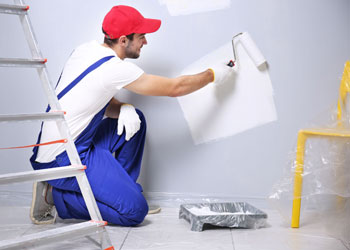 This painting service is suitable for walls and ceilings and woodwork. They're divided into two different jobs because they require separate approaches and products. Depending on your preference and what your service includes we'll use various types of paint ranging from water-based to speciality. Take note that no matter what you've booked us for the service will always start the same: we'll arrive on-site and remove any decorations and furniture in the area surrounding the part of your property you want painted. Before the real work begins we'll perform a number of small jobs. These include checking for scratches in walls and ceilings, and scraping off old paint from woodwork. Once this step is completed we can paint! For walls and ceilings a primer or undercoat will first be put down and then up to three coats of paint applied. Woodwork involves using two coats of primer, dye or stain and then a maximum of three layers of paint, varnish or oil. After this is finished your home will be returned to normal.
How To Contact Specialist Painters in Bethnal Green E2
Act now – book expert painters in Bethnal Green E2 now over the phone on 020 3404 4674. Otherwise, speak to us online through our live chat or enter your details into our request a service form.